17-01-2013, 12:39 (Questo messaggio è stato modificato l'ultima volta il: 07-02-2015, 11:04 da C@rciofone.)
D-Link DAP-1320
ripetitore senza fili 802.11n 300 Mbps
DAP-1320 Ax

(Atheros AR9341)

e Bx

(Qualcomm Atheros QCA9533)
Panoramica
Il Range Extender Wireless N300 DAP-1320 è un prodotto portatile che ti permette di aumentare la copertura del tuo network wireless esistente. Puoi collegare questo device in una qualsiasi presa elettrica di casa tua per estendere il campo della tua rete senza fili. Tanto piccolo da poter stare nel palmo di una mano, ma così potente da raggiungere velocità wireless N fino a 300 Mbps.
Facile da configurare ed utilizzare
Configurare il DAP-1320 è semplice e veloce. Puoi usare l'app gratuita QRS Mobile sul tuo iPhone, iPad o device Android per installarlo senza utilizzare un computer; o puoi utilizzare il pulsante WPS per un associarlo rapidamente al router in tuo possesso.
Design compatto
Il DAP-1320 è pensato per l'utilizzo in qualsiasi ambiente, e disegnato per funzionare in qualsiasi presa a muro senza la necessità di cavi di alimentazione aggiuntivi. Le sue dimensioni ridotte gli consentono di occupare soltanto lo spazio della presa in cui è inserito, senza bloccare le prese adiacenti. Il suo aspetto discreto lo rende in grado di adattarsi ad ogni contesto senza risultare invadente.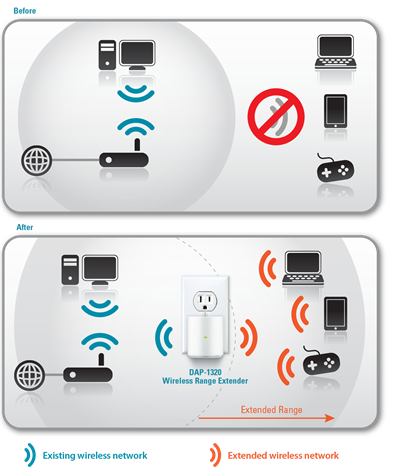 Specifiche
(traduzione da
D-Link IT
)
Interfacce dispositivo
Rete senza fili 802.11n/g/b
Pulsante configurazione protetta Wi-Fi (WPS)
Pulsante reimpostazione (reset)
LED
Stato/WPS
Standard
IEEE 802.11n/g/b
Gamma di frequenza della rete senza fili
Da 2,4 a 2,4835 GHz
Antenne
Due antenne interne
Tipo di spina
CEI 23-16/VII da 10 A con 2 poli
Sicurezza
Accesso protetto Wi-Fi (WPA/WPA2)
Crittografia WEP 64/128 bit
Pulsante WPS su circuito stampato (PBC, Printed Circuit Board)
Caratteristiche avanzate
Supporto app QRS (iOS, Android)
Gestione dispositivo
Interfaccia utente Web (Web UI)
Dimensioni
48 x 42 x 53.5 mm
Peso
69 grammi
Alimentazione
Ingresso: da 110 a 240 V CA, 50/60 Hz
Temperatura
Funzionamento: da 0 a 40 °C
Conservazione: da -20 a 65 °C
Umidità
Funzionamento: 10-90% senza condensa
Conservazione: 5-95% senza condensa
Certificazioni
FCC
IC
CE
UL
EMI/EMC
Certificato Wi-Fi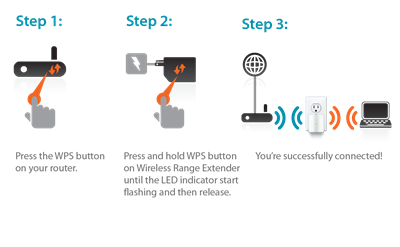 Documentazione
Rev. H/W: A
Scheda tecnica
Guida installazione
Manuale utente
D-Link Canada: domande frequenti (FAQ) & video esplicativi
-
Where should I position my DAP-1320 for best results?
-
DAP-1320 setup recommendations
-
How do I log into my DAP-1320?
-
How do I reset my DAP-1320 to factory defaults?
-
How do I set up and install my DAP-1320?
-
How do I check what firmware version was shipped with my device?
-
How do I upgrade the firmware on my DAP-1320?
Emulatore
H/W:
A1
F/W:
1.00 2012/10/2
&
1.10 2013/6/19
Firmware
Rev. H/W: A1\A2
DAP-1320 Ax 1.21 build 01 20140517
(Forum Backup) con nota edizione
DAP-1320 Ax 1.20 build 07-04 20141002
(Forum Backup) con changelog
<- NEW (compilazione più recente)
DAP-1320 Ax 1.20 build 07 20140318
con nota edizione
DAP-1320 Ax 1.11 build 10 Beta 01 20131024
con nota edizione cumulativa
DAP-1320 Ax 1.11 build 10 20130918
con nota edizione |
Nota edizione cumulativa
Rev. H/W: Bx
DAP-1320 Bx 2.03 build 02 20141125
con nota di edizione
<- NEW
DAP-1320 Bx 2.02 build 01 20140828
con nota di edizione
DAP-1320 Bx 2.00 build 07 20140606
con nota di edizione
Istruzioni per l'aggiornamento
Una volta collegati al DAP via wireless mediante i dati reperibili nell'apposita targhetta allegata alla confezione (oppure quelli personalizzati se il DAP è già connesso ad un router wireless principale), digitare nel proprio browser gli indirizzi:
http://dlinkap.local
oppure
http://dlinkapwxyz.local
(nel caso di più DAP-1320 già connessi allo stesso router wireless)
dove "
wxyz
" sono le ultime quattro cifre dell'indirizzo MAC del DAP-1320 indicate nella targhetta di configurazione Wi-Fi.
In alternativa assegnare prima un IP fisso al DAP-1320 da collegare a un router wireless con accesso da PC tramite l'ultima versione del vostro programma di navigazione su Internet preferito con Java aggiornato.
Upgrade Instructions: Old Interface (firmware 1.00)
Upgrade Instructions: New Interface (firmware 1.10+)
Approfondimenti
WikiDevi: DAP-1320
Supporto mondiale D-Link
Pagina prodotto:
Italia
,
Regno Unito
,
Stati Uniti
,
Canada
Sito FTP:
Europa
,
Temp
,
Stati Uniti
,
Canada
Supporto tecnico:
Taiwan TSD
,
Canada
La prima cosa da leggere in questo forum

|

Siti globali D-Link



Siate CHIARI SINTETICI E

DETTAGLIATI

altrimenti non possiamo aiutarvi!!!
N.B. Purtroppo non ho il tempo di rispondere in PVT: 1) usa un motore di ricerca; 2) usa la funzione "Cerca" del forum; 3) chiedi nel forum. GRZ!!!
Questo forum non è un centro assistenza, ma una comunità.
Prima di chiedere a NOI di risolvere il problema che hai TU, chiediti come TU puoi dare una mano a TUTTI.