19-12-2016, 10:50 (Questo messaggio è stato modificato l'ultima volta il: 15-03-2018, 11:41 da m4ss1.)
D-Link DAP-1330
ripetitore senza fili 802.11n a 300 Mbps su 2,4 GHz
DAP-1330 A1

(Qualcomm Atheros QCA9531 Honey Bee)
Particolarità
Extend Your High-Speed Wireless Network
Extend your home wireless coverage and enjoy wireless connection speeds of up to 300 Mbps with Wireless N technology¹
Flexible and Versatile
The built-in Ethernet port lets you give a wired device the ability to connect wirelessly, or add wireless to an existing wired network
Easy to Set Up
Just plug it in within range of your wireless network, then push a button on it and your router and you're done; no messy configuration required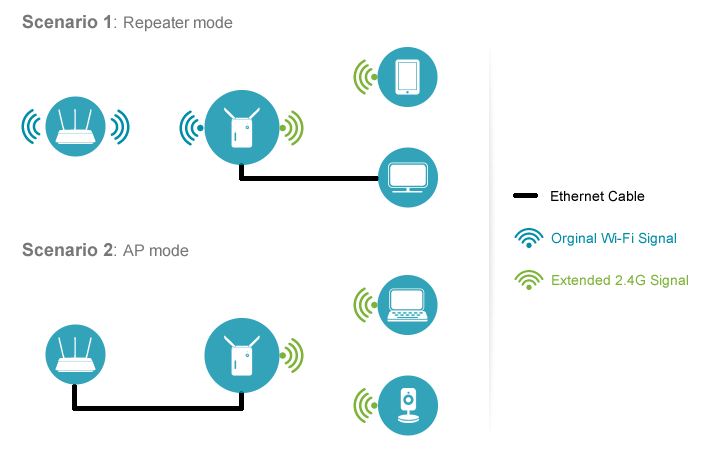 Caratteristiche
Connectivity
• Wireless N gives you high-speed wireless connectivity for your devices
• Wireless 802.11g/b backward compatibility
• Wireless speeds of up to 300 Mbps1
• 10/100 Fast Ethernet Port
Security
• WPA2/WPA wireless encryption to keep your wireless connection secure
• Wi-Fi Protected Setup (WPS) for secure setup with the simple press of a button
Easy to Use
• One-piece wall plug design is compact, portable, and does not require additional power cables
• Built-in setup wizard and QRS Mobile app for mobile devices guide you through installation
Panoramica
The DAP-1330 N300 Wi-Fi Range Extender is a portable plug-in repeater that lets you extend an existing wireless network. Simply place it anywhere in your home to extend the range of your wireless network. Supporting Wireless N, this tiny yet powerful N300 Wi-Fi Range Extender gives you connection speeds of up to 300 Mbps, while still being backwards compatible with your existing wireless devices.
Extend Your Wireless Network
Increase the coverage of your home wireless network with the sleek and easy-to-use DAP-1330 N300 Wi-Fi Range Extender. N300 technology helps to extend wireless range in your home or office and also provides backward compatibility with older wireless devices in your network, allowing you to enjoy a fast, reliable wireless connection. Alternatively, use the built-in Fast Ethernet port and your home's existing wired Ethernet cabling to extend wireless
coverage without worrying about signal strength.
Easy to Set Up, Easy to Use
Setting up the N300 Wi-Fi Range Extender is simple. Just use the one-touch configuration function by pushing the WPS push-button on the DAP-1330 and on the router or AP you want to extend, and the DAP-1330 will automatically configure itself for you. Alternatively, you can use the supported QRS Mobile app on your iPhone, iPad, or iPod touch, or Android mobile device to set up the DAP-1330 easily without needing a computer. The N300 Wi-Fi Range Extender even includes a built-in setup wizard that lets you configure it both wired and wirelessly with a PC or mobile device.
Compact, Convenient Design
The DAP-1330's compact design and intuitive setup makes it perfect for use at home or in a small office. Simply plug it in and use the bright signal indicator LED to find the best location to extend your network. Its diminutive wall-plug design saves you the hassle of dealing with a power cord and its sleek, unobtrusive appearance blends easily into the decor of any home or office.
Specifiche
General
Device Interfaces
• 802.11n/g/b Wireless LAN
• 10/100 Fast Ethernet Port
• Reset Button
• WPS Button
LEDs
• Status/WPS
• 3 segment Wi-Fi signal strength indicator
Standards
• IEEE 802.11n
• IEEE 802.11g
• IEEE 802.11b
• IEEE 802.3u
Antennas
• Two external antennas
Data Signal Rate
• 2.4 GHz
• Up to 300 Mbps¹
Plug Type
• Region dependent
Functionality
Wireless Security
• Wi-Fi Protected Access (WPA/WPA2)
• WPS (PBC)
Advanced Features
• D-Link One-Touch Extender Setup
Device Management
• Supports QRS Mobile app for iPhone, iPad, iPod touch, and Android mobile devices
• Web UI
Physical
Dimensions
• 77 x 55.5 x 34 mm (3.03 x 2.28 x 1.33 inches)²
Weight
• 98 grams (3.47 ounces)
Power
• Input: 110 to 240 V AC, 50/60 Hz
Temperature
• Operating: 0 to 40 °C (32 to 104 °F)
• Storage: -20 to 65 °C (-4 to 149 °F)
Humidity
• Operating: 10% to 90% non-condensing
• Storage: 5% to 95% non-condensing
Certifications
• FCC
• IC
• CE³
• CB
• Wi-Fi Certified
• C-Tick
Order Information
Part Number
DAP-1330
Description
N300 Wi-Fi Range Extender
¹
Maximum wireless signal rate derived from the IEEE Standard 802.11n specifications. Actual data throughput will vary. Network conditions and environmental factors, including volume of network traffic, building materials and construction, and network overhead, may lower actual data throughput rate. Environmental factors will adversely affect wireless signal range.
²
Dimensions do not include the regional plug type.
³
For the EU region, this product is compliant with CE regulations and operates within the following frequency range: 2.4 - 2.4835 GHz.
D-Link Corporation Datasheet updated 06/22/16.
Documentazione
Scheda tecnica
Guida installazione
Manuale utente
Visuale esterna del prodotto
Firmware
DAP-1330 Ax 1.01B4 EU 20170822
con nota edizione
DAP-1330 A1 1.00 Build 21 20151106
con nota edizione cumulativa
Supporto internazionale D-Link
Pagina prodotto:
Italia
,
Brasile
Sito FTP:
Europa
,
Germania
,
USA
,
Canada
,
Australia
Supporto Tecnico:
Taiwan TSD
La prima cosa da leggere in questo forum

|

Siti globali D-Link



Siate CHIARI SINTETICI E

DETTAGLIATI

altrimenti non possiamo aiutarvi!!!
N.B. Purtroppo non ho il tempo di rispondere in PVT: 1) usa un motore di ricerca; 2) usa la funzione "Cerca" del forum; 3) chiedi nel forum. GRZ!!!
Questo forum non è un centro assistenza, ma una comunità.
Prima di chiedere a NOI di risolvere il problema che hai TU, chiediti come TU puoi dare una mano a TUTTI.