23-09-2017, 10:25 (Questo messaggio è stato modificato l'ultima volta il: 19-11-2017, 17:58 da Pondera.)
D-Link DIR-518L
dispositivo da muro multifunzione
(instradatore per Internet a banda larga e mobile, punto attivo Wi-Fi, caricabatterie)
senza fili 802.11ac 600 a doppia banda simultanea
(300 Mbps su 2,4 GHz + 300 Mbps su 5 GHz)
con tecnologia a nuvola
DWR-518L A1

(Realtek RTL8881AQ)
Particolarità
Connect all of your devices to the Internet
Access the Internet with all your devices, whether you're sharing a paid public wireless hotspot or your 3G USB adapter's mobile Internet connection
Share your files easily
Stream photos, music, videos and access documents stored on a USB drive directly to multiple mobile devices through the mydlink™ SharePort™ app
Charge your mobile devices
Keep your devices ready to go with the charging function on the USB port
Caratteristiche
Connect Your Devices
• Automatically detects the appropriate connection mode to use
-
Broadband Router Mode
: Connect an Ethernet cable to share your wired connection
-
Mobile Router Mode
: Connect a 3G USB adapter to share your mobile connection¹
-
Hotspot Mode
: Share Internet access from a Wi-Fi hotspot with all of your devices
• Shares your Internet connection through Wireless AC with combined wireless speeds of up to 600 Mbps²
• Saves your connection settings for automatic connection later
Share Your Files
• Plug in a USB drive for easy file access
• Stream your files over the Internet to your mobile device with the mydlink™ SharePort™ app
• Stream media to UPnP-capable devices Charge Your Devices
• Charge your mobile devices including iPads and tablets via the USB port
Panoramica
Stay connected and charge your mobile devices with the D-Link DIR-518L Wireless AC Mobile Cloud Companion. It allows you to share a wired or wireless Internet connections, or mobile Internet through a 3G USB adapter whether at home or away in a hotel room. Utilising the latest Wireless AC technology to give extended wireless range and speed as well as dual-band support to help reduce interference.
Wireless AC for Faster Performance
The DIR-518L incorporates the latest Wireless AC600 technology for increased range and data transfer speeds to and from compatible Wi-Fi devices. By using dual-bands to reduce radio congestion and interference, the DIR-518L can deliver a combined wireless speeds of up to 600 Mbps using both the 2.4 GHz and 5 GHz bands. Moreover, each band can operate as a separate Wi-Fi network, giving you the ability to customise your network according to your connectivity needs. You can even configure a guest zone to give visitors Internet access without giving them access to the rest of your network. Combined with support for Universal Plug and Play (uPnP), you can stream your multimedia collection smoothly and securely across all your devices and appliances, including smart TVs, game consoles, and media PCs.
mydlink™ SharePort™ – Share On the Go
Sharing audio, videos, and photos is quick and easy with the DIR-518L. Using the mydlink™ SharePort™ app for mobile devices, you can upload, download, and stream multimedia and documents to and from a USB drive attached to your DIR-518L, from anywhere in the world! Simply download the app, register for a free mydlink™ account, connect to your DIR-518L, and you can start sharing your media files with your friends and family as long as you have access to the Internet.
Your Power Station
The DIR-518L's powered USB port not only connects to a 3G dongle for mobile broadband, it also keeps your gadgets charged and ready to go. The Wireless AC Mobile Cloud Companion provides a USB port so you can charge a device by connecting its USB cable. Simply connect your smartphone or high-power devices like tablets to the USB port to start charging.
Easy to Set Up, Easy to Use
The DIR-518L includes a user-friendly interface that stores your connection details for you so you only have to enter them once. Whether you're connected via your 3G adapter for mobile Internet or to the Wi-Fi hotspot of your favorite café, the DIR-518L helps you keep all of your devices connected, automatically!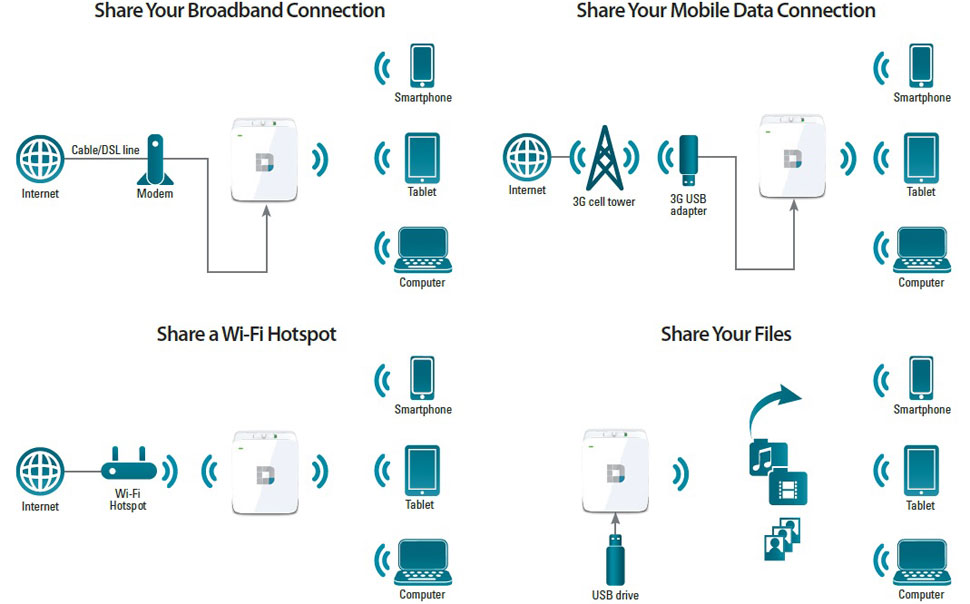 Specifiche
General
Device Interfaces
• 802.11 a/b/g/n/ac Wireless LAN, up to 600 Mbps²
• WPS button
• Power switch
• Reset button
• WAN 10/100 Ethernet port
• USB 2.0 Type A port (1 A) for compatible 3G adapters, USB drive, or charging other devices
LEDs
• Power/Status
Standards
• IEEE 802.11ac (draft)
• IEEE 802.11n
• IEEE 802.11g
• IEEE 802.11b
• IEEE 802.11a
• IEEE 802.3
• IEEE 802.3x
• IEEE 802.3u
• USB 2.0
Internet Modes
• Broadband Router Mode
• Mobile Router Mode
• Wi-Fi Hotspot Mode
Power Modes
• Router/Charger⁴
Antennas
• Internal antennas
Functionality
Sharing Features
• mydlink™ SharePort™ app
- Remote Access Mode: Access files through the Internet³
- Local Access Mode: Access files from any device connected to the DIR-518L
• App supports iPhone, iPad, iPod Touch, and Android devices
• SharePort™ Web Access support (Web browser)
- Access files from any device connected to the DIR-518L
Security
• Wi-Fi Protected Access (WPA/WPA2)
• WEP 64/128-bit encryption
• WPS 2.0 (PBC)
Advanced Features
• Guest Zone support
• IPv6
• Wi-Fi WMM Quality of Service (QoS)
• UPnP support
Advanced Firewall Features
• Network Address Translation (NAT)
• MAC address filtering
Device Management
• User-friendly web UI with desktop and mobile interfaces
Physical
Dimensions (L x W x H)
• 61.0 x 71.0 x 40.0 mm (2.4 x 2.79 x 1.57 inches)
Weight
• 130 g (4.58 ounces)
Power
• Input: 100 to 240 V AC, 50-60 Hz
• USB Type A Port Output: 5 V DC
- 500 mA (Router mode)
- 1000 mA (Charger mode)
Temperature
• Operating: 0 to 40 °C (32 to 104 °F)
• Storage: -10 to 45 °C (14 to 113 °F)
Humidity
• Operating: 10% to 75% non-condensing
• Storage: 5% to 75% non-condensing
Certifications
• FCC
• CE
• IC
• C-Tick
• cUL
¹
For a list of compatible 3G USB adapters, check your local D-Link website.
²
Maximum wireless signal rate derived from IEEE standard specifications. Actual data throughput will vary. Network conditions and environmental factors, including volume of network traffic, building materials and construction, and network overhead, lower actual data throughput rate. Environmental factors may adversely affect wireless signal range.
³
For an optimal streaming experience, 2 MB of upload bandwidth is recommended.
⁴
The DIR-518L only supports charging on the USB port (1 A) in Charger mode

.

D-Link European Headquarters Datasheet updated April 2014
Documentazione
Scheda tecnica
Guida installazione
Manuale utente
Elenco compatibilità chiavetta Internet/modem USB mobile (dongle)
Firmware
DIR-518L A1 1.04 build 1 20151202
con nota edizione cumulativa
Approfondimenti
WikiDevi: DIR-518L rev A1
Supporto internazionale D-Link
Pagina prodotto:
Italia
,
America Latina
Sito FTP:
Europa
,
Germania
,
America Latina
Supporto tecnico:
Taiwan TSD
,
Italia
,
IT mydlink
La prima cosa da leggere in questo forum

|

Siti globali D-Link



Siate CHIARI SINTETICI E

DETTAGLIATI

altrimenti non possiamo aiutarvi!!!
N.B. Purtroppo non ho il tempo di rispondere in PVT: 1) usa un motore di ricerca; 2) usa la funzione "Cerca" del forum; 3) chiedi nel forum. GRZ!!!
Questo forum non è un centro assistenza, ma una comunità.
Prima di chiedere a NOI di risolvere il problema che hai TU, chiediti come TU puoi dare una mano a TUTTI.